Home Safety Guide & Evaluation

We do so much to protect ourselves at work — but do we do the same at home? According to the National Safety Council (NCS), US workers are actually safer on the job than in their homes or communities.
The NSC website notes:
Home and community deaths are up 74%. According to the 2011 edition of the National Safety Council Injury Facts:
Nine out of ten deaths occurred off the job
Nearly three-fourths of medically consulted injuries occurred off the job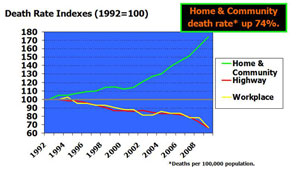 Here is a guide to help you check and evaluate potential risks at your home to help you be as safe at home as you are at your mill.

LATEST NEWS
RPTA Announces Recipients of
2022 Scholarships
Click here for details.
Industry Profile Study
The 2022 Industry Profile Study is underway. This year samples of 21 different grades off 68 paper machines are included.
The target report date for the 2022 Study is September 1.
Members can access reports from prior years at this member-only page.
2022 P-T Seminar
RPTA's annual Production-Technical Seminar was held May 2nd and 3rd at the Charlotte Convention Center, co-located with TAPPICon 2022
There were four very informative sessions covering Contaminant Removal, Refining, Paper Machine Drying and Threading Safety & Guarding. Copies of all presentations made are available at this member-only page.
UPCOMING EVENTS
Summer 2022 Webinar
On July 13th at 2:00 PM Eastern Time, the Operating Board will host a webinar moderated by Chuck Legatt, General Manager of Liberty Paper Inc. Kate McGlynn, of RPTA, will present
Making Product Suitable for Food Contact.
Learn about the unique challenges and requirements associated with making product destined for food-contact packaging, especially when making product with recovered fiber.
Use Use this link to register for this member only webinar.
2022 RPTA Fall Roundtable
The Operating Board has selected paper machine clothing as the 2022 RPTA Fall Roundtable topic. It will include a tour of a supplier's manufacturing facilities. The dates, location and logistical details will be published as soon as arrangements are made.
2023 RPTA Production-Technical Seminar
The 2023 RPTA P-T Seminar will be held April 24th and 25th, 2023 at the Cobb Convention Center in Atlanta. The Operating Board will recruit speakers on wet end improvements; DAF and fiber recovery optimization; process data collection and use; and safety improvements from dryers through calendar stacks. Stay tuned.