Home Safety Guide & Evaluation

We do so much to protect ourselves at work — but do we do the same at home? According to the National Safety Council (NCS), US workers are actually safer on the job than in their homes or communities.
The NSC website notes:
Home and community deaths are up 74%. According to the 2011 edition of the National Safety Council Injury Facts:
Nine out of ten deaths occurred off the job
Nearly three-fourths of medically consulted injuries occurred off the job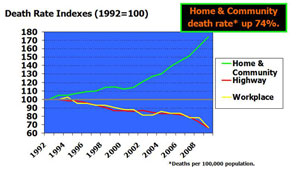 Here is a guide to help you check and evaluate potential risks at your home to help you be as safe at home as you are at your mill.

LATEST NEWS
RPTA Certifies Member Mills After Rigorous Auditing Process
The RPTA announced today that it has completed a rigorous, two-year auditing process by NSF of RPTA member mills, assuring brand owners that products produced by certified RPTA member companies are suited for direct food contact packaging applications. For more information, click here.
UPCOMING EVENTS
2018 Industry Profile Study
Registration for the 2018 RPTA Industry Profile Study, the annual physical properties benchmarking study is underway. RPTA members who plan to register can find information on the 2018 study including the registration form here.