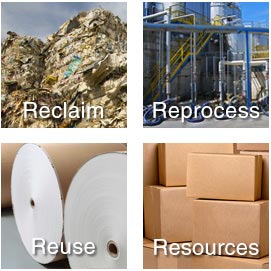 The Recycled Paperboard Technical Association is a non-profit association that brings together the expertise of paper mills worldwide that manufacture products from at least 90 percent recovered fiber. RPTA is dedicated to the improvement of the recycled paperboard industry.
RPTA member companies have been recycling recovered paper since the turn of the 20th century. This heritage of responsible resource management has forged a tradition of innovation and ingenuity that is unmatched in the paper-making industry.
Serving the needs of companies engaged in producing recycled paperboard since 1953, RPTA is dedicated to the improvement of the industry through product stewardship, benchmarking, materials investigations, and education.
Read about RPTA's long-standing commitment to the use of recovered fiber and recycling here.
2018 SCHOLARSHIP AWARD RECIPIENTS
For more information please click here.
RPTA, Associate Executive Director, Technical Services Position Opening
For more information, and to apply, please click here.

LATEST NEWS
RPTA Certifies Member Mills After Rigorous Auditing Process
The RPTA announced today that it has completed a rigorous, two-year auditing process by NSF of RPTA member mills, assuring brand owners that products produced by certified RPTA member companies are suited for direct food contact packaging applications. For more information, click here.
2018 Industry Profile Study
The 2018 Physical Properties Benchmarking (Profile) study was completed and distributed in September. Members can log in to the members only area to view a copy of the report.
UPCOMING EVENTS
RPTA's 2019 Production Technical Seminar
Planning for the 2019 RPTA Production-Technical Seminar is currently underway. The seminar will be co-located with TAPPI's PaperCon May 6-7, 2019 in Indianapolis, IN.
More information will be available in January.