RPTA SCHOLARSHIP

The Recycled Paperboard Technical Association has established a $5000 scholarship to recognize outstanding students who are interested in the recycled paperboard industry.
To qualify, students must meet the following criteria:
Earn a 3.25 GPA
Declare a Paper Engineering or Science major
Served (or intend to serve) as a cooperative student or intern at a recycled paperboard mill
Comply with applicable requirements for maintaining paper foundation scholarships of your school
Comply with applicable scholarship policies of your school
Click here to access the 2018 Scholarship Application form.
ALL APPLICATIONS MUST BE SUBMITTED BY March 9, 2018.
For further information please contact: Jackie Howe at 202.347.9069 or jhowe@rpta.org.
2017 RPTA SCHOLARSHIP RECIPIENTS
Jonathan Fitch, Western Michigan University Chemical Engineering & Paper Engineering Science major awarded 2017 RPTA scholarship.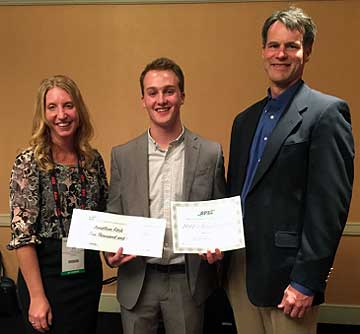 Pictured, left to right:
Jen Johnson, Paper Engineering Student Mentor and Retention Officer, ChP
Jonathon Fitch
Rusty Miller, Graphic Packaging International/RPTA Trustee
Not pictured:
Brad Kirby, Miami University of Ohio Chemical Engineering major 2017 RPTA Scholarship recipient
Abigail Cortright, Western University Paper Engineering major, 2017 RPTA Research Grant recipient

LATEST NEWS
RPTA Certifies Member Mills After Rigorous Auditing Process
The RPTA announced today that it has completed a rigorous, two-year auditing process by NSF of RPTA member mills, assuring brand owners that products produced by certified RPTA member companies are suited for direct food contact packaging applications. For more information, click here.
UPCOMING EVENTS
2018 Industry Profile Study
Registration for the 2018 RPTA Industry Profile Study, the annual physical properties benchmarking study is underway. RPTA members who plan to register can find information on the 2018 study including the registration form here.